Get Involved
You were created by God. When He created you, He made you unique with your own personality, abilities and gifts. Even if you don't know where your gifts may lie, the Bible teaches that you have a special gift that you can use to serve God. You are a vital part of reaching our small community of Bonnyville with the love and grace of Jesus Christ. You will also grow in community with others and grow closer to God.
WHERE TO START
Volunteering is rewarding, but it's also a great way to get to know people. We encourage everyone to get involved in serving - even if you're not sure about this church thing. It's a great way to help others get to know other believers and do life together in the community.
There are always ways to serve here at Bonnyville Baptist. You could try helping out at an event, or start with something you're passionate about.
If you'd like to talk to someone about how to get involved, email us at , or call the office at 780-826-4801 and we'll help you out! Our office staff will put you in touch with the Serve team leaders, or help you discover more about your gifts and passions.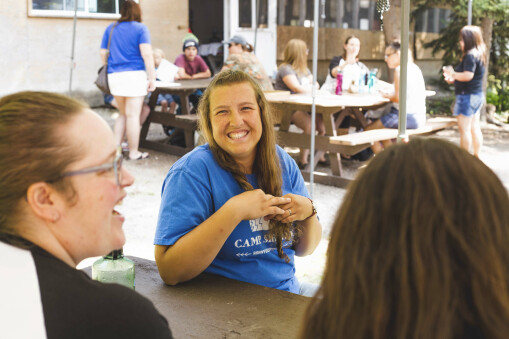 AVAILABLE POSITIONS
CHILDREN'S WORKER / TEACHER
Teach Sunday School or be a helper, work in the nursery, or help with Junior Church. A background check and screening would be required.

PRODUCTION TEAM
There are always opportunities for people to serve in the technical realm. Right now we are looking for people to train to run the soundboard on Sundays, to run the slideshow (ProPresenter), run cameras for Livestream, as well as knowledgeable people with networking experience to help manage our internal network and hardware, and even help manage our website and social media!

Worship team
We are always looking for passionate worshipers who want to lead our congregation in music and to do life together. If you have years of musical experience or are just getting started there is a place for you on our team! For more information send Pastor Dan an email:
MIDWEEK CHILDREN/YOUTH WORKER
Throughout the week, we have groups for kids from Elementary through High School. We could use passionate people who care about kids and teens, who want to see them grow to be Godly men and women. Background check and screening required.
ADMIN and data processing
It takes many people to communicate and run the organizational part of the church - and we could use your help. From being a teller to folding bulletins, from designing publications to updating our website, there is a spot for you.
LIFE GROUP HOST OR LEADER
Want to be part of a life group but don't have one yet? Don't know how to get started? If you are interested, we'd love to talk to you about how we could get the life group to come to you! It's a lot easier than you think and incredibly rewarding. Life group leaders need to be members of the church, but you can be a Life Group Host anytime!
OTHER OPPORTUNITIES
There is no way we can list everything on this page, but if you have a passion or skill you would like to share, even if you don't know how we could use it as a church, we'd love to talk to you more about how to serve with what God has gifted you! Contact us and we'll get you started doing something you love. Here are some ideas to get you started:
Videographer - we need someone who loves telling stories in a visual way!
Connecting/Greeting Team - If you love people and making them feel at home, this position could be a great fit for you.
Outreach Team - Is seeing others come to know Jesus your heart? This is the ministry for you.
Visitation - There are always people who need love, and can't come to the church to tell us!
Camp - Love discipling young folks to Christ, or just passionate about camp ministry? We run a two-week summer camp in August every year! We have areas in need from cooking in the kitchen, housekeeping, cabin leaders, games facilitators, snack shack keepers, and more. Reach out to Pastor Graham for more information!
Decorating - We have so many ideas, but not enough hands to make it happen!
Creative Worship Planning Team - People who are creative and passionate about God would love this!