CAMP FAQ's
What are you doing about Covid?
We will be doing DAILY SCREENING for Covid-19 of EVERYONE every time someone enters the property. As everyone is accustomed, if your camper has any symptoms please keep them at home as they will not be allowed at camp.
Will anything be the same?
All campers will be assigned to a 'cabin group' with a cabin leader who is in charge of them while at camp and a team like normal. Our daily schedule will be also be very similar to a regular day of camp with chapel, group games, meals, free time and skills.
what if i can't drive my child out every day?
We understand this format will not work for everyone but hope it will work for most. If your camper is not able to attend this new format of camp please let us know ASAP so we can offer your spot to the next person on the wait list. If there is an obstacle we can help overcome to have you camper attend please let us know as we would love to help.
What is your plan for meals?
Jr. Camp: We will NOT be providing breakfast or dinner for the campers as we do not have kitchen facilities at this property. There WILL be a BBQ lunch provided and a snack but please make sure your camper has breakfast before they are dropped off. If your camper has any specific dietary restrictions please consider sending them each day with a packed lunch as we cannot guarantee options for everyone.
Teen Camp: We will NOT be providing breakfast for campers but WILL have lunch and supper available each day. Please make sure your camper has had breakfast before being dropped off. Please let us know if your camper has specific dietary restrictions.
MY CHILD NEEDS MEDICATIONS, WHAT SHOULD I DO?
All medications will be turned in to the medic at check-in each morning.
HOW DO I GET TO THE CAMP?
Junior Camp will be held at Landry Lake Ranch: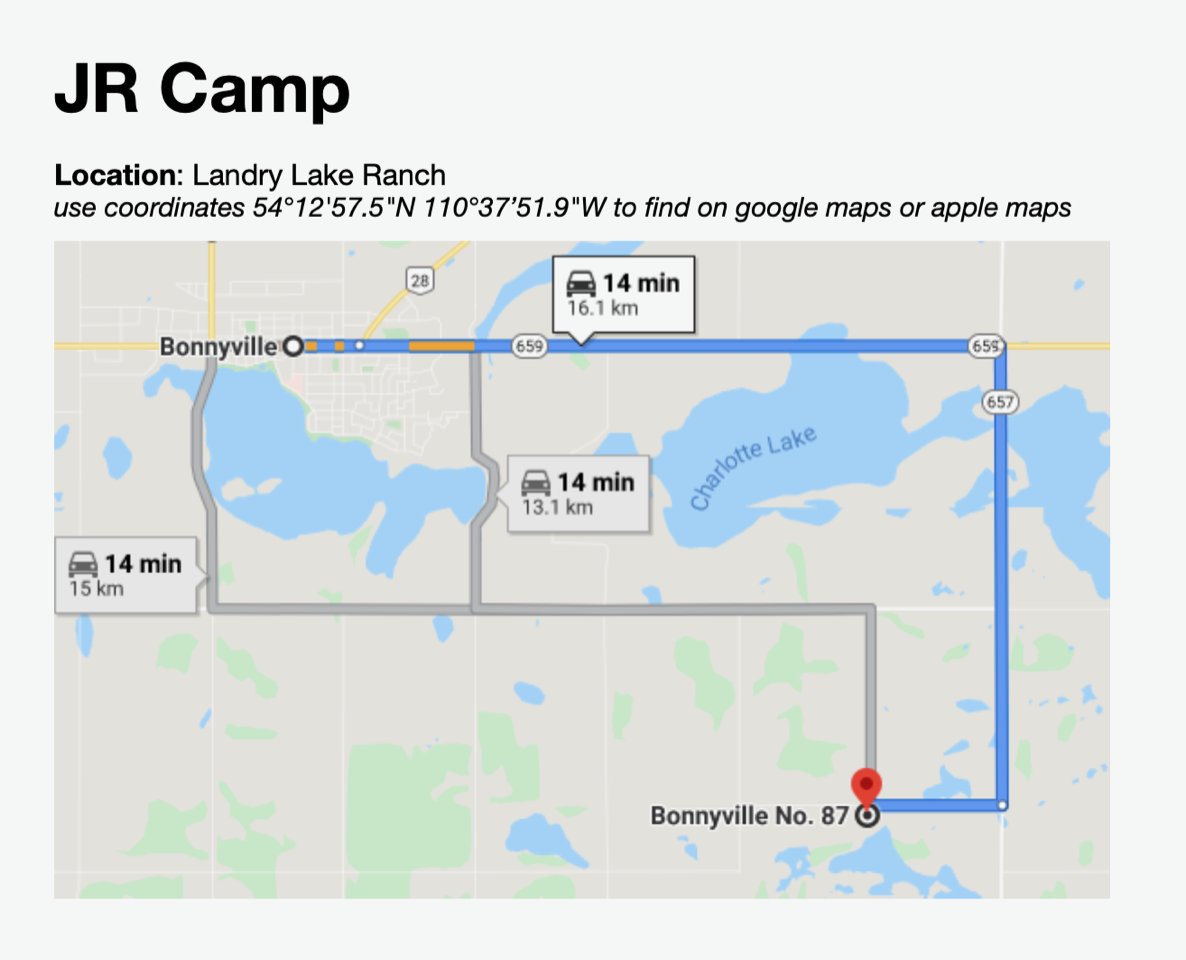 Teen Camp will be held at Moose Lake Pentecostal Camp: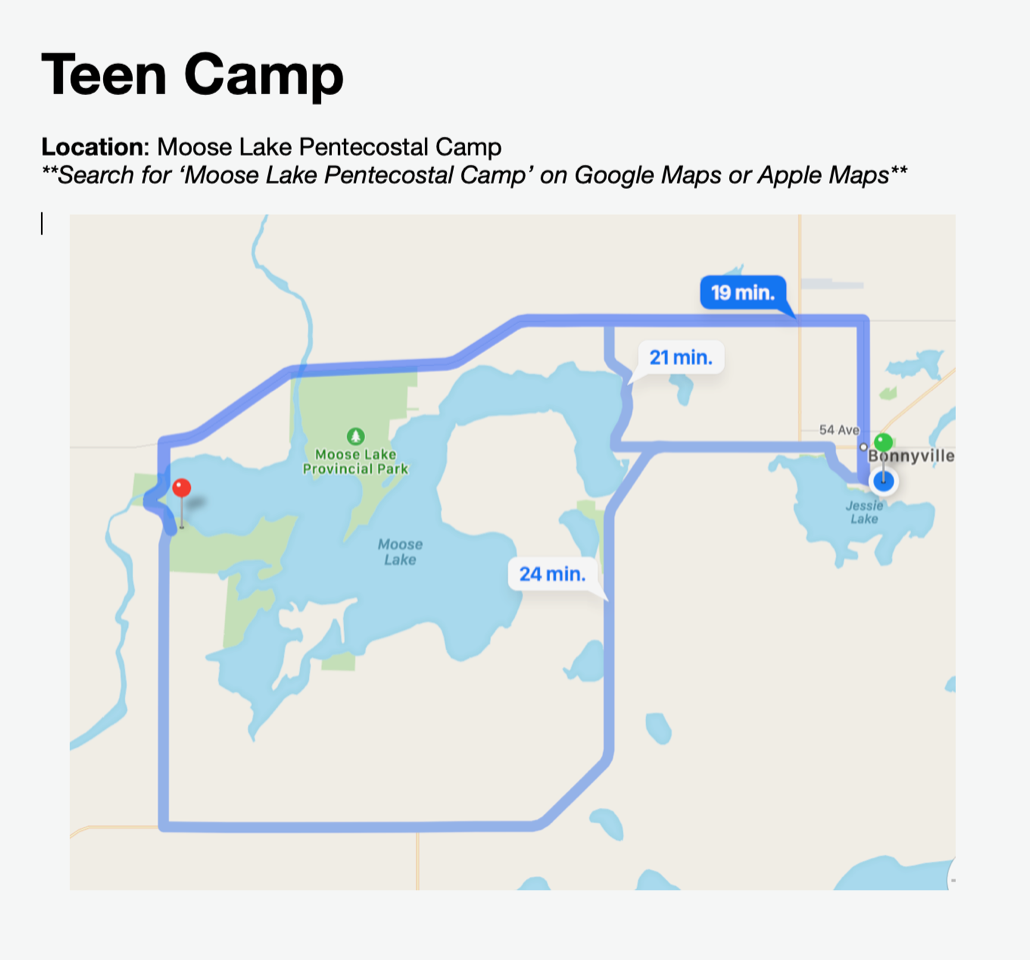 WHEN IS CHECK-IN?
Check-in is from 9 - 10 am on Monday.
WHAT IF I NEED TO CHECK IN LATE?
Notify the camp registrar if the camper will be checking in late. Call 780-201-3988 by Friday, 3 pm of the week before camp starts or email
WHEN IS CHECK-OUT?
Check-out is between 5-6 pm each evening for Jr. Camp. Check-out is between 8-9 pm each evening for Teen Camp.
WHAT DO I NEED TO DO WHEN I PICK UP MY CHILD Each evening?
Parent/guardian MUST sign campers out when they leave.
what do we bring?
There will not be cabins available for campers so please bring only what you need for that day of camp and leave any valuables at home.
WHAT IF WE DECIDE TO CANCEL?
If you must cancel, please contact the camp registrar at or call 780-201-3988 as soon as you are aware so that we may accommodate any children placed on the wait-list. **NEW: If you do not show up for camp and haven't informed us of your change of plans with at least 7 days notice, your child will be put directly on the waitlist for next year. This policy is to be fair to all the campers that want to attend, as we don't want to have to turn anyone away.
I'D RATHER NOT REGISTER ONLINE. IS THERE ANOTHER WAY TO REGISTER?
Yes! You can request a registration form at Bonnyville Baptist Church office, or for a printable form, CLICK HERE.
HOW DO I KNOW IF YOU'VE RECEIVED MY REGISTRATION?
Once you have registered, you will receive an email confirmation. IF YOU DO NOT receive an email within one week, please contact the camp registrar at or call 780-201-3988.
HOW WILL YOU RESPOND IF MY CHILD BREAKS THE CAMP RULES?
Camper's are encouraged to follow camp rules and will receive warnings. They may be sent home depending on severity of their actions. The final decision is left to the discretion of the Director and Camp Team.