New Here?
Hey You! THANKS FOR SHOWING UP
We believe everyone can find their place at Bonnyville Baptist Church. If it's your first time to church (or it's been a while), it can be nothing short of scary to show up without knowing what to expect. One way to get a pretty good idea of what a service is like is to watch one of our services before joining us in person! What we can promise you is that you'll meet some genuine people, hear some awesome music and you'll hear a scripturally-sound message from the Bible that you can apply to your life.
What To Expect
When you walk through the doors, our hope is that you'll feel at home. Our ultimate desire, as a body of devoted followers of Jesus, is to create an environment where people can experience the presence of God in a life-transforming way. When you arrive, pop into our cafe for a free cup of freshly brewed coffee, check out our in-house library and drop your kids off at Sunday School or nursery. Then, head into the Worship Centre for our morning service.
WHAT WE BELIEVE
We are part of the Fellowship Evangelical Baptists of Canada and believe that God and His words in the Bible have the ability to transform our lives. Wherever you are in your faith journey, you are welcome here. As a church, we apply the truth of the Bible to our everyday lives and share life as a community. We seek to explore, understand and apply God's truth to our lives at every level in a spirit of love.
CLICK HERE FOR MORE ON OUR BELIEFS AND OUR STATEMENT OF FAITH
MEET OUR PASTOR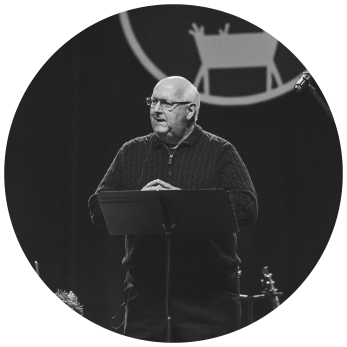 "First of all, welcome to Bonnyville Baptist Church. My name is Pastor David McClain and I'm honoured to introduce myself as the Senior Pastor of this church. I have been in ministry for over 40 years- most of it in the United States. I found Christ early in life and have dedicated my life to ministry since my early years. I obtained a B.S. degree from Corban University (then Western Baptist College in Salem, Oregon) before getting an M.Div. degree from Western Seminary in Portland, Oregon. My undergrad work focused on history and literature while my Masters' level work focused on Biblical Theology and Languages, Counselling, and Pastoral Ministry. I also earned a doctorate degree from Fuller Seminary in Pasadena, California focusing on church health and organization management.
My first church was in Brownsville, Oregon before planting a church in Idaho Falls Idaho. Following that I was an executive pastor in San Diego before becoming a Senior Pastor in the Central Coast of California in Grover Beach. In 2009, my wife and I moved to Bonnyville where The Lord has blessed our various ministries and we've seen many lives drawn closer to God over the years. My passion is to help people love God with all their heart, soul and mind through the Good News of Jesus Christ."
If it's your first time to our church, expect to be noticed and for people to say something like, "Hi, we haven't met before, is this your first time?". It might feel a bit overwhelming at first, but that's just our genuine community showing our care and interest in welcoming you here. Don't worry though, if you are feeling shy, we'll try to discern that as well. :)

If you've made the decision to attend our church, we want to be able to be a support and a community for you. So, if you've decided to call BBC your home please fill out a contact sheet so we can stay connected with you!
PLAN YOUR VISIT | GET ON OUR MAILING LIST | JOIN A LIFE GROUP | SERVING OPPORTUNITIES

Email us at or call at 780-826-4801 if you have any questions!